Origo Capital - Active value creation in the Nordics
We aim to deliver superior investment performance by consistently investing
with a long-term view and fully integrating sustainability analysis into
our investment decisions.

Prestigious award to Origo quest 1
27 November 2019
We are delighted to announce that Origo Quest 1 has won the prestigious HFM Emerging Managers Awards 2019. The fund was no 1 in the equities under $100m class. The awards honour the best performing smaller and recently launched hedge funds based in Europe.

A big thank you to all Quest 1 investors and partners that have been instrumental in our success over the last seven years!

Press release (PDF)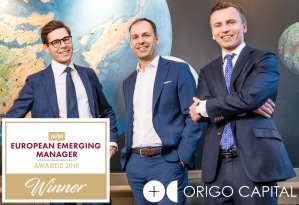 Origo Capital is an alternative investment firm (AIF manager) focusing on the Nordic region and small and mid cap companies. We strongly believe in fundamental research, engaged ownership and a long-term perspective. Our mission is the same as at the start of 2012; to deliver quality returns to our investors and to adhere to our principles of integrity, excellence and transparency.

Read more »
January 2020
" Important long -book themes in 2019 have been digitalization, energy efficiency and transformation..."

Download the report (PDF) »
Origo Quest 1 is an award winning Nordic alternative equity fund.
Sustainable small- and mid caps
Engagement
Efficient portfolio management
Sign up below to receive a monthly update on the fund's performance and development.
External research of the fund
Download our yearly insight paper which will give you an in-depth view of our investment process.
Past performance does not guarantee future performance. The value of your investment may rise as well as fall and there is no guarantee you will recover your original investment. An investment in Origo Quest 1 should be seen as a long-term investment.